2018 University of California W-2 Statements NOW AVAILABLE!//= Titles\title(); ?>
Back to Top
Introduction
(First Posted: 01-31-2019)
Your 2018 University of California electronic W-2 statements are now available to view and download in both UCPath and AYSO.
IMPORTANT NOTE: If you were employed at UCLA at any time between January 2018 – September 2018 and earned wages, please note that you will receive two (2) W-2 statements for 2018:
One (1) W-2 statement in AYSO for your January – September 2018 wages.
One (1) W-2 statement in UCPath for your October – December, 2018 wages.
How to View and Print Your W-2 Statements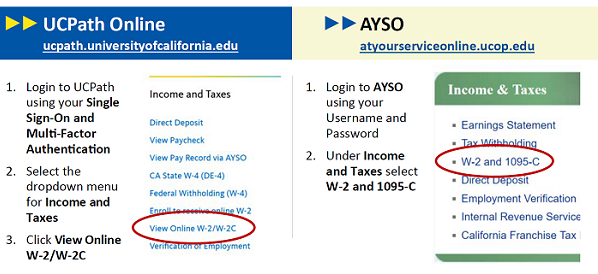 If you have elected to have your W-2s mailed to your mailing address on file, they will be postmarked by January 31. Your W-2 will be mailed unless you have requested an electronic version.
The University of California does not send actual tax statements to employees or retirees by email or text. If you have requested an electronic W-2, you must log in to UCPath and AYSO to view it. If you receive an email or text that has an attachment for viewing your W-2 or other tax statement, it is a phishing scam designed to gain access to your private information. Do not open any attachments or click on any email links.
Have questions or need assistance?
Contact the UCLA Central Resource Unit (CRU):
By Phone: (310) 825-1089, and select Option 5, Monday – Friday, 8:00 a.m. – 4:00 p.m.
By Email: contactcru@ucla.edu